Cagliari's airport is a major gateway for all journeys to the South of Sardinia. The island's capital is the main destination for British Airways on the island and also well-serviced by low cost carrier EasyJet . The flight service between London and Cagliari is particularly extensive with daily flights connecting both cities. But during the summer there are also direct flights from Edinburgh and Manchester to get you to Sardinia as convenient and affordable as possible.
Companies and Flight Times
EasyJet is offering daily flights from London-Stansted to Cagliari between May and the end of October.
From Monday to Friday flights depart London quite early at 06:05 o'clock and arrive in Cagliari at 09:50 o'clock. On Saturdays flights depart at 13:55 with a time of arrival of 17:40 o'clock. Between July 23rd and September 10th these flight times change. The new time of departure in London is 16:55 and the airplane arrives in Cagliari at 20:40 o'clock. On Sundays flights leave London at 11:10 and arrive at 14:55 o'clock. The return flights from Cagliari depart at 10:20 during the week, 18:10 or 21:10 on Saturdays and at 15:25 o'clock on Sundays. The flight duration between London and Cagliari is always 2:45 hours.From November 1st until the end of EasyJets current flight plan in late March 2012 the company is conducting only 3 flights per week to and from Sardinia on Tuesdays, Thursdays and Fridays at different times.
Ryanair does not fly to Cagliari, its main destination on Sardinia for flights from the UK is the airport of Alghero on the western coast of the island.
Cheap Flights to Cagliari - Booking Online Deals
Expedia is offering deals for cheap return flights with EasyJet from London to Cagliari from £60.86 per person. However, during the summer and especially during weekends prices can be around £232.86 You can save money by taking a flight during the week. During high season multi-stop flights with other airlines can actually be less expensive. For instance Alitalia is offering a flight that connects in Milan and Rome with duration of 6:35 hours for £220.53.
EasyJet charges £28 per piece of luggage or £25 for Sports equipment. A flight change is generally possible for a fee of £30 per person and flight. The company is offering a priority boarding service for £20.50.
Cagliari Airport - Features, Location and Connections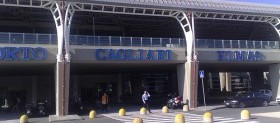 Cagliari Elmas Airport is the main airport in the south of Sardinia and a perfect gateway to the island. Sardinia's capital is full of historical and cultural sites and well connected with the beaches and holiday resorts in the south. Airport facilities within the Terminal include a Tourist Information Point, a Post Office, Luggage Storage, an ATM, restaurants and bars, as well as plenty of shops.
The airport is situated only six kilometers to the north-west of Cagliari's centre. There are several options to get from the airport to the city:
Right at the airport, you can choose among 15 different car rental agencies, among them Hertz, Europcar and Sixt. The agencies are in a separate building right outside the Terminal building.
Two busses per hour connect the airport with the city centre of Cagliari. The ride takes about 10 minutes and will cost 4€.
A taxi stand with a 24 hours service is located right in front of the Terminal. There is a fixed minimum fare of 15€ (£13.35) for taxi rides from the airport to the city.
[gmap zoom=11 |center=39.254588032219935,9.06097412109375 |width=500px |height=300px |control=Micro |type=Map]